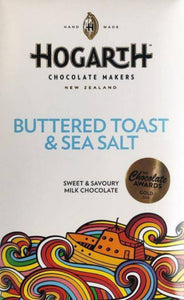 Sweet and Savoury Milk Chocolate by Hogarth Chocolate Makers
Winner of the SUPREME AWARD at NZ Chocolate Awards 2018
Captured in this bar is the morning ritual of slathering pure New Zealand butter over rye toast. That savoury, salty delicious morning get up and go… is now available in chocolate! Yum.
With real Vogels Original to flavour this bar, that's right…there is actual bread in the chocolate! Combining Ecuador cocoa, butter and Vogels we have created a buttered toast flavoured bar.
70g
Made in Nelson, New Zealand
If you choose to build a box, the gift box and handwritten card will automatically added to your cart. This is essential for creating your own box.
Please note: if you are purchasing products without a gift box the minimum order value must be at least $59.95 (orders with discounts are also to be this minimum) before shipping.  Thank you for your understanding.