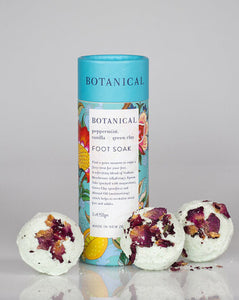 3 Pack, packaged stylishly into a 100% recyclable paper packaging. 
Find a quiet moment to enjoy a fizzy treat for your feet. A refreshing blend of Sodium Bicarbonate (alkalising), Epsom Salts (packed with magnesium), Green Clay (purifies) and Almond Oil (moisturising) which helps to revitalise tired feet and ankles..
 
Directions - Drop this fizzy treat into warm water and soak feet for as long as necessary.  Did you know that magnesium is absorbed best via the soles of your feet?
 
Ingredient: Sodium Bicarbonate, Epsom Salt, Citric Acid, Green Clay, Almond Oil, Water, Peppermint Essential Oil, Vanilla Parfum, Dried Herbs and Flowers.
If you choose to build a box, the gift box and handwritten card will automatically added to your cart. This is essential for creating your own box.
Please note: if you are purchasing products without a gift box the minimum order value must be at least $59.95 (orders with discounts are also to be this minimum) before shipping.  Thank you for your understanding.