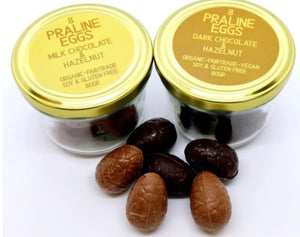 A jar filled with 8 small Praline eggs! Only 2 ingredients : NZ roasted hazelnut butter and La Petite's 58% creamy milk chocolate.


Weight : 100gr

Organic -Fair trade - Gluten free - Soy free - Palm oil free


Plastic free packaging.
If you choose to build a box, the gift box and handwritten card will automatically added to your cart. This is essential for creating your own box.
Please note: if you are purchasing products without a gift box the minimum order value must be at least $59.95 (orders with discounts are also to be this minimum) before shipping.  Thank you for your understanding.