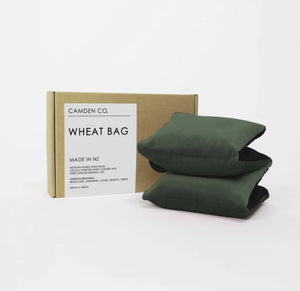 Camden Co Wheat Bags are a popular designer version of the old fashioned Wheat Bag. Handcrafted in New Zealand from locally grown wheat and locally sourced fabric.
Camden Co are leading designers of everyday home use products. With a range of contemporary colours and modern textures to choose from, their Therapy Wheat Bags are a must have around the home.  
All Wheat Bags are scented with Camden Co's iconic scent infused with Sweet Orange.
Heating and cooling instructions come with every Wheat Bag within its own labeled brown box. 
Camden Co Wheat Bags soothe aches, pains, sore muscles and tension around the neck and can be used hot or cold. They are a great alternative to hot water bottles on cold days and chilly evenings.
 Dimensions = 450mm long  x 140mm wide.
Fabric: Sourced from Warwick Fabrics NZ: 100% Polyester
 If you choose to build a box, the gift box and handwritten card will automatically added to your cart. This is essential for creating your own box.
Please note: if you are purchasing products without a gift box the minimum order value must be at least $59.95 (orders with discounts are also to be this minimum) before shipping.  Thank you for your understanding.