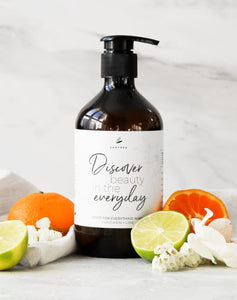 Santosa's Good for Everything Wash is a safe, multi-purpose natural cleanser, to nourish your skin and care for your health.  A refreshing fusion of citrus that invigorates and uplifts, taking care of your body from the outside in. Healing Mandarin oil combines with restorative Lime oil to not only cleanse, but to generate focus, maintain mental clarity and help you to embrace the day with positivity.
Packaged in 500ml PET Plastic.  1000ml refills available.
If you choose to build a box, the gift box and handwritten card will automatically added to your cart. This is essential for creating your own box.
Please note: if you are purchasing products without a gift box the minimum order value must be at least $59.95 (orders with discounts are also to be this minimum) before shipping.  Thank you for your understanding.