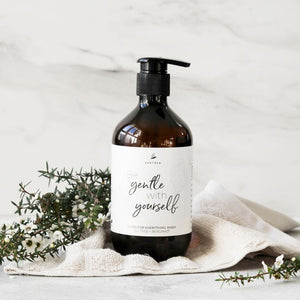 Santosa's Tea Tree and Bergamot combine to offer a botanical blend of natural antibacterial, anti-viral and anti-inflammatory properties to safely cleanse, soothe and moisturise  your body, leaving it cared for on the outside, while rendering a moment of calm on the inside.
Santosa's Good for Everything Wash is a safe, multi-purpose natural cleanser, to nourish your skin and care for your health.
500ml PET Plastic and Glass bottles with 1000ml refills available.
If you choose to build a box, the gift box and handwritten card will automatically added to your cart. This is essential for creating your own box.
Please note: if you are purchasing products without a gift box the minimum order value must be at least $59.95 (orders with discounts are also to be this minimum) before shipping.  Thank you for your understanding.