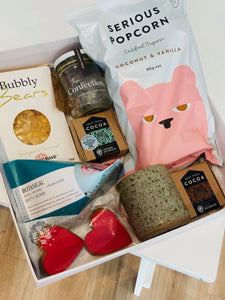 A box guaranteed to impress!
This GoldieBox includes:
Coconut and Vanilla Serious Popcorn 80g - we all go loco-for-the-coco and it's no different at Serious Popcorn. Discover the coconut trifecta- organic coconut oil, organic coconut extract and organic coconut milk powder, finished with a touch of vanilla. This flavour is just as mother nature intended.
Teresa Maree Clay Ceramic Tumbler - Handmade candle + ceramic.  Individually hand poured into a gorgeous naturally toned ceramic vessel
100% natural soy wax
gently fragranced with black raspberry vanilla oil
vessel thrown on the potters wheel with NZ speckled buff stoneware
reusable as a tumbler for a morning coffee!
Approx size:9cm Tall 8cm wide. 250 mls
Each piece is handmade in Auckland, New Zealand.
Slight imperfections are a part of their charm. Microwave/Dishwasher safe - hand wash to take extra care. 
Bubbly Gummie Bears - Gorgeous gummie bears made from beautiful bubbly. 100g
West Coast Cocoa: Premium quality West African "Dutched" Cocoa. Each batch of hot chocolate and chai is blended with care in small batches to ensure consistency and premium quality.  Gluten-free, dairy-free, vegan.
Mint, Manuka and Chamomile Bath Bomb: A natural fizzing fun treat for your bath. Our beautifully scented Mint, Manuka & Chamomile Bath Bomb will leave your skin and mind feeling refreshed, calm and soft. 
 
A blend of Sodium Bicarbonate, Citric Acid, Cornstarch, Epsom Salts, Water, Almond Oil and Essential Oil Fragrance Blend, Dried Herbs & Flowers 
Dark Chocolate & Almond Toffee (small jar): Made by The Confectionist.. A delicious treat of indulgent traditional brittle style toffee with moreish roasted almonds, coated with dark chocolate and dusted with fine almonds.
Packaged in reusable glass jar.
Gingerbread Heart Cookies from Molly Woppy - Twin Pack 54g.  It's Love at First Bite® with  these Gingerbread Hearts cookies. One for you and one for someone you love, they are baked with love and made for sharing. Made with Molly Woppy's gingerbread recipe and topped with red fondant icing they will tickle the tastebuds and make the heart sing.